24 / 7 Emergency Service in Brevard County
In hot and muggy Florida, Brevard County residents come face to face with mold on a regular basis. It's a part of living in a tropical climate, and with the stop and start of air conditioning units, the fungus is easily created and multiplied right under your very nose. Local residents often try to tackle mold removal themselves, but for infestations over 10 square feet, it's professional mold remediation that they require.
Taking on mold remediation yourself isn't as easy as it may seem. It isn't that safe either. While the fungus isn't technically toxic itself, it releases spores that are and can aggravate asthma, cause itchy, watery eyes, and trigger sneeze attacks. Your local Brevard mold remediation company offers a safe and thorough service for your home or business. Our community knows us as the experts that take care of all of their most needed services, including water mitigation and fire damage restoration.
While mold may be easy to create, its complete eradication isn't. Affordable Mold and Water Removal has the expert knowledge, tools, and experience necessary to effectively remove this toxic foreigner from your home. Did your property recently sustain water damage? Are you noticing black spots on your walls? If you suspect this toxic intruder is living in your home or business, call us at (321) 890-2512 today.
The Effective Mold Remediation Brevard County Needs
Since it is a common occurrence for households across Brevard County, effective mold remediation is something all homeowners should think about. In general, most molds aren't a big issue, but they can grow rapidly and turn into a larger problem than you can handle alone. When the fungus grows inside your home or business and multiplies, it releases mold spores that can hurt your immune system. But how does the fungus get into your building in the first place?
Those encountering an overgrowth might have experienced some type of water damage or moisture buildup in the past. The fungus can also grow because of inconsistent temperatures within your space, and that's why (especially in the summer) it's a good idea to have a temperature controlled property. Mold loves warmth and moisture, and just the slightest bit of each can trigger growth. So how do you eliminate it? While you may be able to remove a small amount of it yourself, excessive colony growth requires a professional. That's where we come in. Our mold remediation service has won awards for a reason, and businesses and homeowners alike trust us to wipe out the fungus the right way, the first time. We use all of the proper safety equipment including safety goggles and suits to protect ourselves, along with advanced equipment to detect the fungus when the human eye can't.
When you hire us for mold remediation, our team of IICRC certified experts will thoroughly inspect your home—including areas you may not think to look at. During the first inspection of your space, we'll be able to identify what type of mold is present, how dangerous it is, what's causing it, and how you can prevent it. Armed with this information, you can use it in your fight against the fungus in the future and decide what the next right step is now.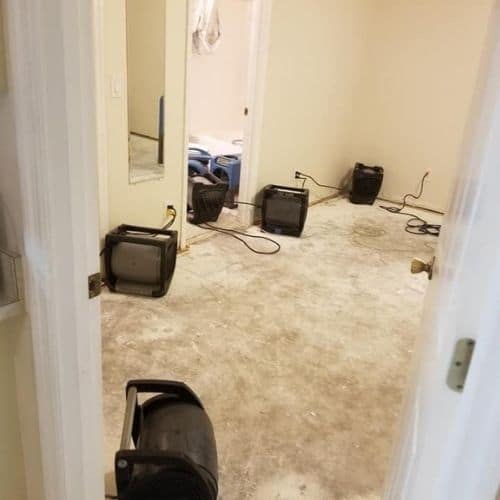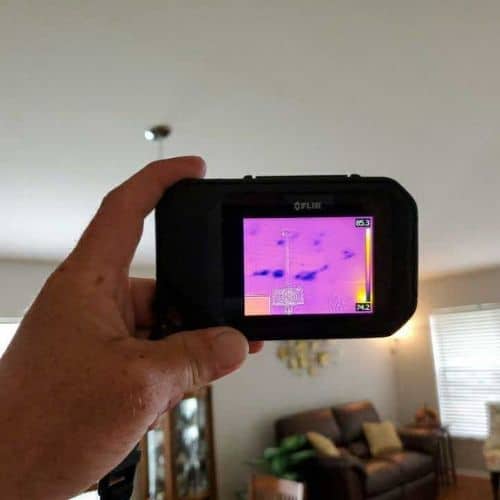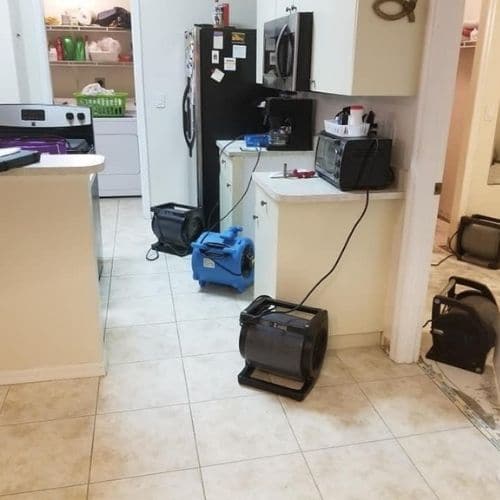 Get Real About Mold Prevention in Brevard County
Do you have signs of mold growing in your home? This sneaky focus can affect all of us, but with the right prevention tips, you can stop it from ever forming. The first thing you should know about the fungus is that it needs the right temperature range to grow, along with organic matter to eat, and moisture to multiply. Considering the environment of most homes, it's no wonder so many Brevard County residents face it.
The easiest way to prevent mold from growing? Eliminate the moisture. Since Brevard County homes are at risk of flooding, leaks, pep bursts, and fires, there are more than a few ways excessive moisture can make its way into your home. To first safeguard your home against the fungus, get rid of all causes of humidity. Having your plumbing inspected seasonally can help reduce hidden leaks and pipe bursts. If there's one thing you should take away from our prevention tips, it's that annual maintenance is your best friend for mold prevention.
As for unpreventable disasters like flooding and extreme weather will need a different approach. The best way to dry out moisture is to call on our professional water mitigation or water damage restoration team.
Mold Prevention Tips at a Glance
Perform seasonal maintenance checks to ensure there are no leaks

Check damp crawl spaces

Call a professional right away if you experience flooding or leaks

Remove carpet from your basement and bathroom (or any humid room)

Keep your indoor humidity levels at under 50%

Ensure adequate ventilation with free-flowing air

Ensure your home is properly vented with free-flowing air

Use anti-fungal sprays in humid rooms
Seriously Affordable Water and Mold Removal
In Brevard County, it isn't hard to create a colony of fungus in your home. This easy-spreading fungus can totally take over your house and furniture if you let it, leaving you with a huge job you should not take on yourself. We're called Affordable Water and Mold Removal for a reason. Not only do we specialize in these award-winning services, but we provide them for an excellent price.
How fast should you act? Right away. If your home was exposed to water damage, the fungus can start to grow within 12-24 hours. You'll notice it on your walls within 72. To guarantee it's all removed, use our licensed mold remediation contractors to ensure your safety. We see that no cross mold contamination happens during our service, meaning one call is all you need to breathe easy again.
If you're tired of searching for mold removal companies near me and coming up empty handed, we service all of Brevard County, including 24/7 Emergency Service. We're the first choice for mold remediation Melbourne FL, Rockledge, and Veria can rely on. Our customers also value our water damage restoration services too which can be combined with any other service.
Why hire us? Brevard County locals see a lot of water damage. They also see a lot of mold. The victims of extreme weather and flooding, sunny Florida homes aren't impervious to leaks, pipe bursts, and fires, either. Affordable Water and Mold Removal covers all of your needs during unexpected situations and emergencies. Our professional remediation team acts fast to stop growth in its tracks. We'll answer your call any time of the day or night, assessing damage, inspecting for growth, and providing the kind of courteous service that makes a difference during disasters.
Don't put yourself, your family, or your customers at risk. Call our professional team today. We'll guide you through the remediation process and get your property back up and running.
Brevard County Mold Remediation FAQs
What is Mold?
According to the CDC, mold is a fungal growth that grows on damp, decaying organic materials and spreads. There are many different types of the fungus including green mold, black mold, and the type you'll see on the old fruits in your fridge. It is a fast growing fungus that spreads its spores through the air. That's why it can be so difficult to treat, but also why it's important to call a professional. When the fungus first occurs, it can be tricky to spot. Plus, sometimes it grows in areas you don't initially see. Remember that after the first set of moisture, it can begin to grow within 12-24 hours.
What is Mold Remediation?
Mold remediation is a common phrase in Brevard County, but many residents don't know what it means or how it differs from removal. While mold removal may be used as a more casual phrase to describe the general cleaning process, mold remediation deals with everything involved in eradicating the fungus from your home. This may include:
Testing

Removal

Sanitizing

Cleaning

Mold damage restoration
The activities performed during your remediation service will differ depending on how much of the fungus you have and how many areas of your building it is affecting. The only way to ensure you properly remove all of the fungi from your home is to hire a professional. We have the tools and expertise needed to inspect all areas of your home that are at risk. Your mold remediation may resemble the following process:
We inspect your property to identify the type and moisture source

We isolate the area so that the spores do not spread through the air when touched

We execute cleaning and HEPA air filtration to effectively remove all airborne spores

Disposal of certain items in your home may be required

We'll sanitize all affected areas and moldy surfaces, deodorize, and use thermal fogging tools

We will do a final mold inspection
When the mold issue has been removed from your home or business, we will tell you more about how to prevent it in the future. The remediation process wouldn't be the same without imparting knowledge on our customers, helping them stop it from coming back.
Can I Remove Mold Myself?
While it's possible to remove it yourself with a scrub brush and soap or bleach, homeowners cannot remediate the fungus themselves unless they have all of the right knowledge, tools, and safety gear. It's not often that homeowners have these things on hand, or the desire to buy them, so often it's much easier to call a professional remediation company like us. gets under carpet, into drywall, and even insulation. If you suspect you have the fungus in more than 10 square feet of your home, call us today, we'll give you an estimate cost of mold remediation after we inspect your space.
Can You Get Sick From Mold in Your House?
In short, yes, you can get sick from mold in your house. While you probably won't experience the negative effects of it in the great outdoors, when the fungus enters a closed off environment like your home, its mycotoxins spread through the air and can cause a number of undesirable symptoms. Though types of mold vary, exposure to the substance can cause allergic reactions such as:
Sneezing, congestion, and a runny nose

Itchy, red, and rashy skin

Red, itchy, and water eyes

Fever
If you have an asthmatic in your family, you should be doubly careful about the fungus in your home. While to someone without asthma may only sneeze, it can trigger asthma attacks in people with asthma.
Call Us For Mold Remediation, Brevard County!
If given the chance, mold will take over your home. With a fast mold growth rate and toxic spores, it can cause a slew of unpleasant symptoms for you and your family. Affordable Water and Mold Removal offers an award-winning remediation service to eradicate this unfriendly visitor from your residential and commercial buildings.
Our team of IICRC certified professionals is here to serve all of Brevard County night and day. Seeing you through unexpected disasters, leaks, and accidents, our team offers 24hr service to care for our community. Call (321) 890-2512 to see the difference our reliable crew makes.
Let our experienced Brevard County water restoration and mold specialists help you begin the recovery process and help mitigate loss to the greatest extent possible
Call Now

Affordable Water and Mold Removal is a water damage restoration and mold remediation company located in Cocoa, FL. Our specialty is restoring your home or business back to its pre-loss condition quickly and cost-effectively, so you can get back to what is most important to you.
We cover all of Brevard County including Barefoot Bay, Cape Canaveral (Port Canaveral), Cocoa, Cocoa Beach, Grant, Indialantic, Indian Harbor Beach, Malabar, Melbourne, Melbourne Beach, Melbourne Village, Merritt Island, Micco, Palm Bay, Palm Shores, Port St. John, Rockledge, Satellite Beach, Suntree, Titusville, Valkaria, Viera, West Melbourne
6680 Cairo Rd​,
Cocoa, FL 32927
Office Hours: 24 / 7 Service