24 / 7 Water Damage Restoration Service
Water Damage Restoration, Brevard County 
Affordable Water & Mold Removal is a trusted company in Cocoa, FL, that has been offering top-quality water damage repair and restoration services for years. Our team of experts is knowledgeable and experienced in handling all types of water damage situations, using the latest equipment and techniques to restore your home or business.
Whether your property has suffered from burst pipes, plumbing leaks, or storms, our certified and licensed professionals are well-equipped to handle any situation. We provide comprehensive services for water damage restoration, including water extraction, structural drying, dehumidification, and even mold removal.
At Affordable Water & Mold Removal, we understand that water damage can be devastating for property owners. That's why we are committed to providing prompt and efficient services that will minimize further damage and help you get your property back as quickly as possible.
Contact us today if you need professional water damage repair and restoration services in Cocoa, FL.
The last thing a residential or commercial property owner wants is to fall victim to a water leak or flood. Excess water saturating your walls causes structural damage and creates an ideal environment for mold growth. Untreated water damage can also become a health hazard to you and any others occupying the space. Whether it is an undetected pipe leak, roof leak, or basement flood, you'll need access to 24-hour emergency water damage restoration. Brevard County residents can rely on the professionals at Affordable Water & Mold Removal to recover their home's pre-loss state with ease.
Our professional water damage restoration process focuses on saving and restoring your property back to its original condition. Our team of water damage cleanup and drying specialists is certified by the Institute of Inspection Cleaning and Restoration Certification (IICRC). They are properly trained to use in-place drying techniques to remove excess water without damaging or tearing out your structure.
If you're looking for a trustworthy water damage restoration service, you're at the right place! Reach out to our knowledgeable customer service team at (321) 890-2512 to learn more or inquire about our mold remediation and fire damage restoration services.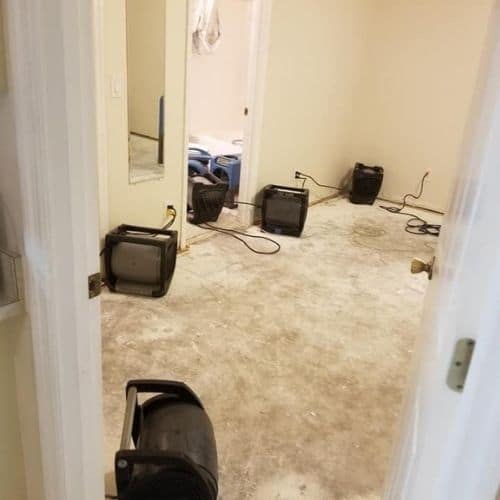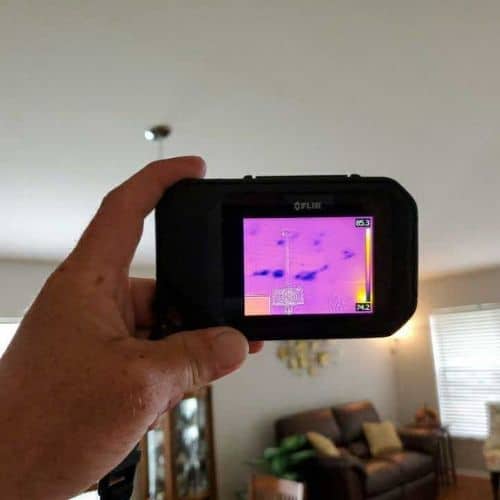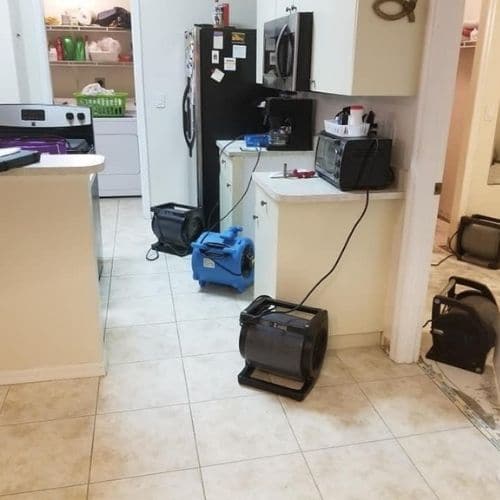 What You Can Expect From Our Water Damage Restoration | Brevard County
When in need of water damage restoration, Brevard County residents can expect our team to arrive promptly to their emergency situation. In the meantime, you'll be advised to do all you can to remove standing water from the floors and open all windows and doors to let air in. If you have fans or dehumidifiers, they should be running at full blast until our local pros arrive with their specialist equipment.
Our water damage repair and cleanup are a multiphase process that involves:
Water removal

: Although it's quite self-explanatory, there are faster ways than using old towels and mop heads. If you live in a flood-prone area, we highly recommend keeping a wet vacuum in the house as it can serve wonders if you need a quick drying process. At Affordable, we have plenty of shop vacs and will bring several ones to an emergency service appointment. The goal is to get all surfaces dry first.
Inspection and assessment

: We take the necessary inspection steps to mark affected areas and assess the level of damage evident. We'll also be using specialist tools and equipment, such as infrared and thermal imaging devices, to further investigate areas that might also be affected and need immediate treatment. These areas may include behind your ceilings and underneath your subfloors.
Drying and dehumidification

: Drying a home's materials, systems, and structures takes time in a hot muggy state like Florida. Therefore, drying processes must be accelerated with the use of heavy duty air movers and dehumidifiers. It takes mold less than 24 hours to develop.

Cleaning and sanitizing

: Any type of flood involves dirty water that carries bacteria and other harmful organisms. Besides cleaning up, it's important to decontaminate and sanitize the area as we dry. We use disinfectants and antimicrobial treatment to kill bacteria and reduce the risks of diseases. In our type of climate, air sanitizers are also useful to stop the spread of germs. From surface cleaning to carpet cleaning, our team has you covered!
There is a lot to keep in mind during a water damage repair and restoration service. The most important part of the remediation process is to locate and stop the water source. If it was a broken pipe, you'd probably have a team of licensed plumbers handling the repair service. While they help you mitigate the situation, our team will handle the restoration process, so your home will soon get back to its pre-loss condition.
Let our experienced Brevard County water restoration specialists help you begin the recovery process and help mitigate loss to the greatest extent possible
Call Now
Choose a Certified Water Damage Cleanup Company
Affordable Water & Mold Removal company has been serving the local community within Brevard County for many years, delivering quality workmanship that guarantees customer satisfaction. What makes us stand out from the competition is that we care more than simply getting the job done. We provide mold removal and water damage restoration in Brevard County with your health and safety in mind. Thus, we want to be sure to remove any health risks from your living space that were caused by flood damage or mold damage. 
Our IICRC certified team brings many years of experience and extensive training and is equipped with the best drying equipment and moisture detection meters available. We use reliable water damage restoration principles based on science, research, and experience, and we go the extra mile to ensure your property is restored to your satisfaction. Our rapid response, combined with our knowledge, experience, equipment, and innovative techniques, will ensure that your loss is handled as efficiently and cost-effectively as possible. When hiring us for water damage restoration, Brevard County residents can quickly return to what is most important to them.
Brevard County residents who are looking for dependable water restoration near me will get all the benefits they need from the local pros at Affordable!
24-hour emergency water removal and restoration service

Dependable IICRC-certified specialists

Florida-licensed mold remediation professionals

Green badge certified

Advanced technology

Experienced and fully insured to serve local homeowners and business owners
Whether it's a natural disaster or a plumbing accident, count on us for excellent water damage restoration. Brevard County professionals at Affordable will help you begin the recovery process and mitigate loss to the greatest extent possible!
FAQs About Water Damage Restoration, Brevard County
Will Home Insurance Cover My Water Damage Restoration?
Brevard County properties should have decent home insurance coverage where water damage restoration services should be covered. From our experience, this type of damage, as long as it happened suddenly or accidentally, is covered. It is plumbing repairs and other home repairs that homeowners are responsible for. When you hire our services, rest assured that our team will contact your insurance company and provide the necessary information required to start an insurance claim. 
However, we do recommend that you reach out to your insurance agent to get more clarification on your insurance policy should something be unclear. It's also worth checking out other coverage plans they have available. 
What's the First Thing To Do If I Need Water Remediation?
The first thing to do is make sure you're in a safe spot and the water is not in contact with any electrical cables. Turning off your electricity is the best way to prevent any electrical shocks. If you know this incident is caused by a pipe burst, turn off your home's shutoff valve and call for an emergency plumber for immediate repairs. 
Next, you move on to minimizing the damage through water extraction. Use a shop vac or whatever you have available to stop the spread. Besides reporting this situation to your insurance provider, contact the team at Affordable for immediate water damage restoration. Brevard County residents might be in a state of emergency and panic. But the sooner you familiarize yourself with the potential risks and the best course of action, the better you'll be prepared should a disaster strike.
How Much Does Water Damage Restoration in Brevard County Cost?
The cost depends on many factors and primarily on the extent of the damage evident. It's also important to keep in mind that this is a time-sensitive situation. So the sooner you call for assistance, the sooner you'll recover from flood waters or a leaky pipe. But the longer you wait, the sooner your materials will deteriorate and become irreparable.
On average, a water damage restoration service costs around $5100, of which $2700 is for the dry out process.
Need Help With Water Damage Restoration? Brevard County Can Trust the Pros at Affordable Water & Mold Removal!
Flood restoration is not just recovering from the hurricane season. You could also be recovering from a broken water main, sewer backup, or excess moisture caused by bad ventilation in your home. When in need of expert water damage restoration, Brevard County property owners have the local pros at Affordable Water & Mold Removal.
Whether you're in Cocoa Beach, Barefoot Bay, or Merritt Island, we have the locals in Brevard County covered! Contact us today at (321) 890-2512 to learn more about our services and have all your questions answered.

Affordable Water and Mold Removal is a water damage restoration and mold remediation company located in Cocoa, FL. Our specialty is restoring your home or business back to its pre-loss condition quickly and cost-effectively, so you can get back to what is most important to you.
We cover all of Brevard County including Barefoot Bay, Cape Canaveral (Port Canaveral), Cocoa, Cocoa Beach, Grant, Indialantic, Indian Harbor Beach, Malabar, Melbourne, Melbourne Beach, Melbourne Village, Merritt Island, Micco, Palm Bay, Palm Shores, Port St. John, Rockledge, Satellite Beach, Suntree, Titusville, Valkaria, Viera, West Melbourne
6680 Cairo Rd​,
Cocoa, FL 32927
Office Hours: 24 / 7 Service